Dr. Sawyer received her Bachelors of Science Degree in 1988 majoring in biology and physical science with a minor in chemistry. In 1992, she graduated from National College of Chiropractic, now known as National University of Health Science located in Lombard, Illinoi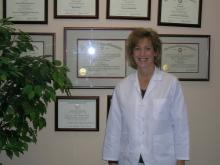 s. She is certified by the National Board of Examination and maintains licensure by the Virginia State Board of Medicine to practice chiropractic in Virginia.
Dr. Sawyer's professional experience has allowed her to work jointly with several medical professionals including neurosurgeons, orthopedic surgeons, neurologists, physiatrists, physical therapists, and family physicians to provide a multidisciplinary healthcare approach.
Dr. Sawyer combines adjustments with therapeutic modalities, which she performs herself. She will also assist and advise appropriate exercises to facilitate your recovery. Her high quality personal approach allows her to spend ample time with each patient. In addition, all of the personnel at Lynnhaven Chiropractic Clinic are caring, sincere people who are committed to helping patient's full recovery.